BECAUSE YOUR GRAB BAR CAN GO ANYWHERE IN THE HOUSE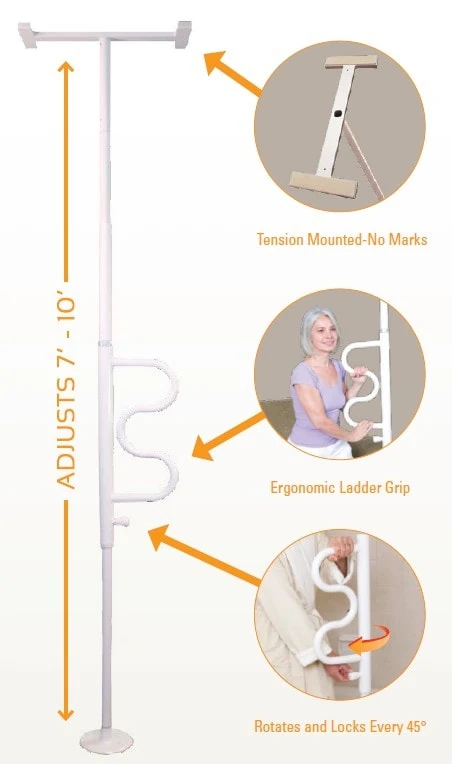 FEATURES & BENEFITS
• Two Products in One – Floor-to-ceiling pole with
pivoting curve grab bar that locks in place every 45˚.
• Adjustable – Fits ceiling heights 7'–10′ ft.
• Portable – Main pole easily separates into two 53″
pieces making it easy to transport.
• Adaptable – No need for wall mounts; can be installed
in virtually any area of a room exactly where it
is needed.
SPECIFICATIONS
Materials: Rust resistant zinc plated steel with durable
powder coat finish
Fits Ceiling Heights: Range of 7′-10′ ft.
Weight Capacity: 300 lbs
Weight of Product: 20 lbs
Package Dimensions: 54.00″ L × 12.50″ W ×
3.25″ H; 22 lbs
Case of 2 Dimensions: 54.00″ L × 12.50″ W
× 6.5″ H; 45 lbs
COMES IN TWO COLORS
BLACK #1100-B
WHITE #1100-W